By: JEAN NAYAR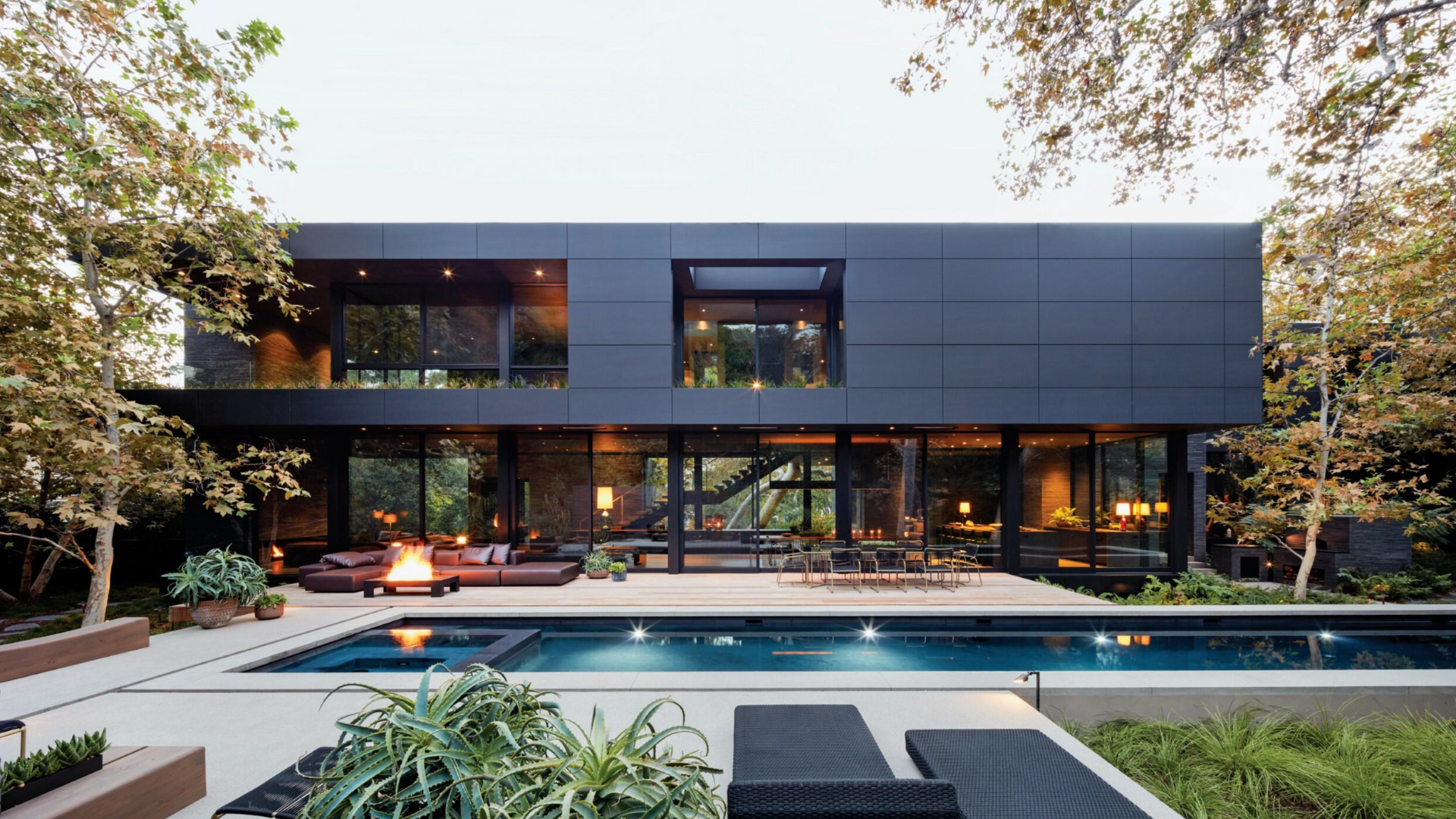 THE PRINCIPALS OF A QUARTET OF ARCHITECTURE AND INTERIOR DESIGN FIRMS OFFER THOUGHTS ON THE LIMITLESS DESIGN POSSIBILITIES IN THE GOLDEN STATE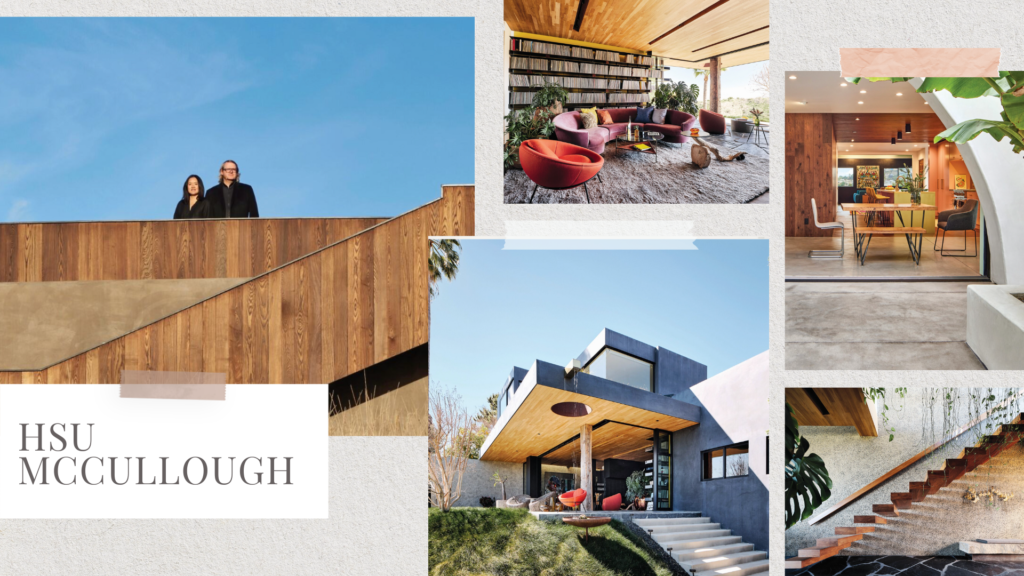 HSU MCCULLOUGH, An architecture studio based in Los Angeles that specializes in custom home design, Hsu McCullough was founded by husband-and-wife Chris McCullough and Peggy Hsu after designing and building their home in Sherman Oaks. Rooted in comfort and unique beauty, the firm's meticulous approach allows each home to reflect the aspirations and lifestyles of their clients, all with an emphasis on natural light and an equal weight on interior/exterior spaces.
WHICH ARE TWO OR THREE FAVORITE MATERIALS?
CM: Any kind of wood—walnut, oak, cedar, we love the warmth and variation of grain, as well as the surface texture they create in our spaces. It is a versatile and forgiving material to work with. We also like natural stones that still have rough edges and texture, just like they are in nature.
WHAT IS MOST INSPIRING TO YOU ABOUT THE CALIFORNIA CONTEXT? CM: The available daylight, its strength throughout the year—and, of course, the blue sky.
THERE'S A ZEN-LIKE QUALITY TO MUCH OF YOUR WORK—DOES YOUR ASIAN HERITAGE INFLUENCE YOUR IDEAS? PH: Growing up under the influence of Buddhist philosophies has made me seek balance in life and the nature of things. We both also believe in the Japanese philosophy of wabi-sabi—appreciating the imperfection in nature, materials, and the beauty of the effects of time—patina!
HOW DOES ECO-CONSCIOUSNESS FACTOR INTO YOUR WORK? PH: We love maintaining an existing landscape, especially trees, on our project sites and finding inspiration there that we can connect the design and layout to with renewable and natural materials. CM: We like to bring indoor plants into our homes as much as possible, so spaces aren't just inside out but also outside in.
WHICH CURRENT DESIGN TREND WOULD YOU LIKE TO SEE DISAPPEAR?
PH: "Safe", mostly white and pale interiors. CM: Over-the-top home automation systems that require reliance on technicians to help solve what was simple only 20 years ago. Complicating our lives in unnecessary ways is so unwelcome.
WHAT ARE THE PRIORITIES IN YOUR APPROACH TO DESIGN?
PH: Creating a harmonized sanctuary, a calm residence of different functioning rooms—sometimes open to each other and sometimes withdrawn but fully connected. We craft spaces that integrate the surrounding natural environment using natural and raw materials with contrasting textures and a loyalty to natural light. Our design of The Ridge Residence embodies these priorities yet also inherently focuses inwardly as well.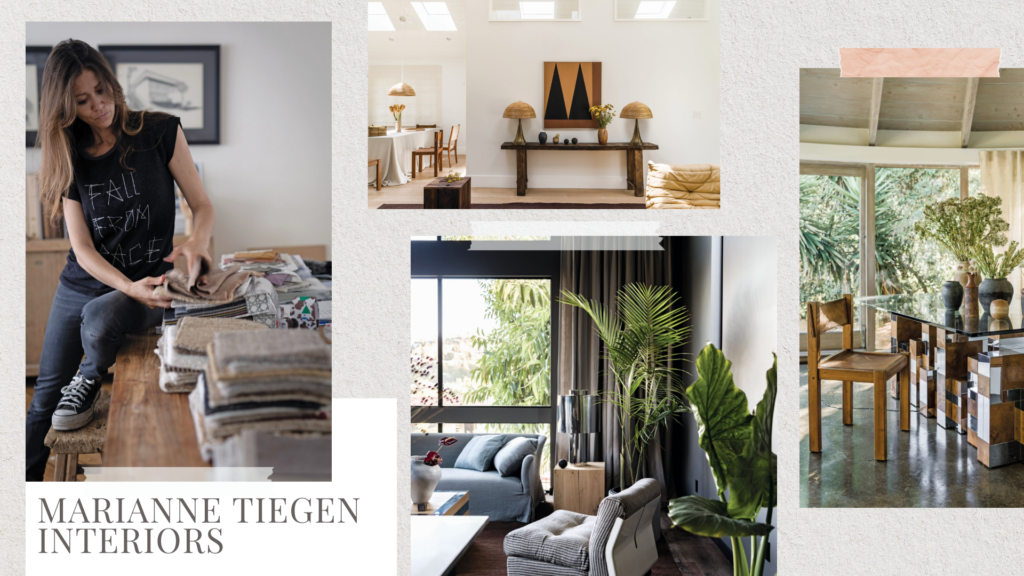 MARIANNE TIEGEN INTERIORS With offices in Los Angeles, Paris, and Switzerland, designer Marianne Tiegen Iooks to local culture to craft spaces attuned to the environment. Her spaces invariably include artisanal touches by craftspeople as well as singular antiques, objects, or art that give each home distinct personality.
CAN YOU TALK A BIT ABOUT YOUR PHILOSOPHY TOWARD DESIGN? Our goal is to create a strong sense of home, well-being, and a unique sense of luxury, a mindful luxury. Luxury—that which is artisanal and focused on the finest details—is what stands the test of time. Our mindful luxury approach reflects today's global effort to rescue and restore furniture and materials, paying attention to the history of each element and its contribution to the project narrative as a whole. We also focus on using natural, reclaimed or renewable materials and want to use something other than polluted manufacturing processes. For this reason, we are developing different methods using flowers and plants to dye fabrics, where the byproduct water can be re-used to water plants again, versus using toxic colorants which pollute rivers and oceans. Similarly, we use a lot of natural clay and limestone plasters for wall finishes instead of manufactured coatings. We value these ancestral skills, which help define a new sense of luxury.
HOW HAVE YOUR ROOTS IN BOTH SOCAL AND FRANCE INFLUENCED YOUR WORK? It's important to me to bring elements of both lifestyles into a project. French romanticism and Californian glamour can work very well together. Whenever you create tension, such as between the rustic and the aristocratic or the casual meeting the refined, that is where you find the most interesting ideas. My French upbringing brings a rigorous and classic approach to a free and open-minded California. The French obsession with excellence meeting the innovation of California.
HOW DOES NATURE AND SUSTAINABILITY INFLUENCE YOUR POINT OF VIEW? Nature has always been my first inspiration, the ultimate inspiration. Regardless of location, I believe that blurring the boundaries between the interior and the exterior creates a strong connection with the environment and ultimately an increased sense of well-being. Coming from a surfing family from L.A.'s South Bay, I've always embraced the beach lifestyle and living with the ocean and the elements. Sustainability has been a very instinctive approach since the beginning of my practice. Preserve, rescue, restore. It is crucial not only as a collective and global effort, but it also informs an aesthetic choice of using found materials that age better with time—an object that already has a beautiful patina or materials that exist as heirlooms rather than disposable, manufactured elements.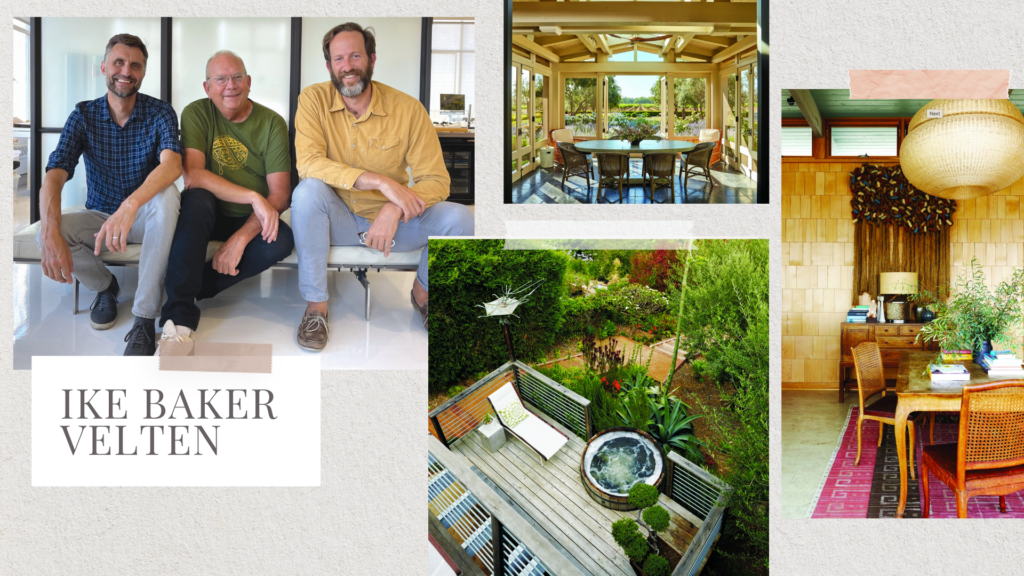 IKE BAKER VELTEN Based in Oakland, California, John Ike, Carl Baker, and Tyler Velten, principal architects of Ike Baker Velten, are known for their distinctive designs throughout California and the country that are rooted in tradition but modern in their sculptural forms. Enduring material integrity is a hallmark of their work, which often features taut detailing and a touch of whimsy.
DESCRIBE YOUR APPROACH TO DESIGN. JI: We take each project on its own, we have no signature style. So, we have a wide variety of work, no one would say "I want your usual house." TV: We place a strong emphasis on the handmade, our work exudes a tradition of craftsmanship—the unique qualities of each client can be found in the details, in small unexpected places.
HOW DOES THE CALIFORNIA CONTEXT INFLUENCE YOUR WORK? JI: We look to history a lot—one of our favorite California architects is Bernard Maybeck, who moved here from the East Coast in the late 19th century and adapted Shingle style houses for California. We do a lot of work in New York and other areas on the East Coast, and we tend to synthesize influences from both sides of the country into our work.
WHICH ARE SOME FAVORITE MATERIALS? CB: We like natural materials that are enduring, so we're fans of stone. For a recent project we used a local basalt quarried from the site of the house. We also like local wood. California has so many trees that are rot-resistant like Port Orford cedar and redwood. JI: In Southern California we work with stucco or clinker bricks like those used by the Arts and Crafts-era architecture firm of Greene and Greene. So much of our work is about texture.
ARE THERE ANY CURRENT DESIGN TRENDS THAT YOU'D RATHER SEE GO AWAY? JI: We've seen temporary looks that, thanks to social media, start to be applied all over the world. I prefer regionally specific design, rather than a fleeting universal language that makes cities or regions lose their identity.
HOW DOES ECO-CONSCIOUSNESS FACTOR INTO YOUR WORK? TV: We're proponents of deep eaves and traditional concepts of shade and shelter. We used these and other strategies in a project in Carmel, where the design of the home, which is also stepped down along the site to take advantage of convection currents, allows the house to stay so cool with just a small window open at the top and bottom that the owners rarely use air conditioning.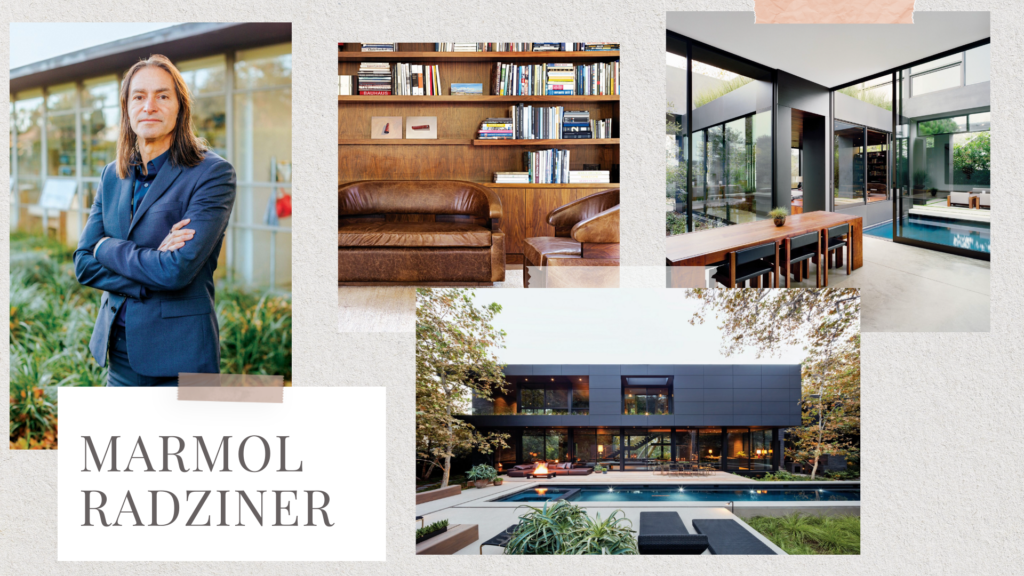 MARMOL RADZINER Founded in 1989 by Leo Marmol and Ron Radziner, Marmol Radziner is a design-build practice led by architects with a reputation for innovative design and precise standards in custom homes and interiors. With offices in San Francisco, Los Angeles, and New York, the firm operates under a "master builder" concept by integrating the services of architects, interior designers, landscape designers, metal fabricators, carpenters, furniture makers, and construction crews and also offers bespoke furniture design and fabrication.
CAN YOU OFFER THOUGHTS ON WHAT DRIVES YOUR APPROACH TO DESIGN? It's incredibly powerful to design a home that's an expression of an individual's or family's approach to living. Of course, the site plays a big role in how a home is shaped to take advantage of views, the climate, the course of the sun. We take a modern approach to organizing spaces that work seamlessly with the environment.
WHICH DESIGN TREND WOULD YOU RATHER NOT SEE ANYMORE? We're now seeing a lot modern farmhouses that don't really have relevance to where they're being built and I hope they go away soon. I also don't care for vessel sinks on top of a counter. They aren't beautiful and they're not functional either.
HOW DOES ECO-CONSCIOUSNESS FACTOR INTO YOUR WORK? My home in Mandeville Canyon offers an example of many of the strategies we use to make our projects environmentally friendly. We always use passive design elements like deep overhangs to control the sun, green roofs to absorb water, deciduous trees like sycamore in the landscape that grow thick and green and offer natural shade. We also often use photovoltaic panels to generate electricity, drought-tolerant plants to limit the use of water, and cisterns to collect water for use in landscaping.
WHICH ARE TWO OR THREE FAVORITE MATERIALS?
I love materials like wood, concrete, glass, and metals that age gracefully over time, taking on different patinas and merging with nature. I gravitate toward natural, earthy materials.
WHAT INSPIRES YOUR DESIGNS OF FURNITURE AND OBJECTS? Our furniture designs are inspired by the places the pieces will occupy. They're never an abstraction but rather a part of the overall architecture, a sculpture that reflects a way of living in shape and materiality. As for our jewelry, it came from work we were doing for a store called Mayfield in Malibu. They were selling various pieces of men's jewelry that were heavy, sometimes in the shapes of skulls and very opulent. I was interested in the weight of the pieces, but not so much the materiality. So we designed some pieces of our own and had them made in our metal shop in El Segundo. We also have a wood shop there where we make our furniture.
HOW DOES THE CALIFORNIA CONTEXT INFLUENCE YOUR WORK? I was born in California and certainly the climate is ideal for creating homes that can become one with the site and open up for indoor-outdoor living. We also have a history of strong residential architecture, by modern architects like Rudolph Schindler, Richard Neutra, Ray Kappe, and Frank Lloyd Wright, that inspires us to walk in their footsteps and carry on a tradition of thoughtful modern design into the future.